All your favorites from the You can never have too many trucks shirt to the Kids/Youth Black shirts are back in stock! Some new arrivals include: 6 Month Kids Black T-Shirts, Flex Fit XL/2XL Black Hats, Womens Crew Neck Black T-Shirts, and 5XL You can never have too many trucks Black Shirt back in stock! Let us know if you have any questions! dinoschevyonly@gmail.com
---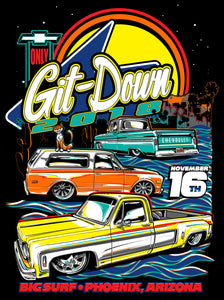 Pre Sale is LIVE August 1st thru August 31st! Don't miss out on this years Git Down shirt! It truly is one for the books!
---
Chevy Only Dad hats are live! We ran a limited number of these, so get them while supplies last! 4 colors available!
---
SOUTHEASTERN NATIONALS TRUCK SHOW JULY 14TH, 2018 Moss-Wright Park 745 Caldwell Dr Goodlettsville, TN 37072
---
SUNDAY, JUNE 24TH, 2018 AT 8AM BROTHERS TRUCK SHOW ANAHEIM, CALIFORNIA AT CANYON RV PARK Chevy Only will be set up with all of our gear, come say hi and pick up the everything you need!